Okay, so I know a lot of people have befriended this person unaware of who she really is and are probably biased to defend her, but please at least keep an open mind and hear what I have to say.
This picture isn't of just any ordinary person, it's a picture of the celebrity Miley Cyrus. You probably remember it from back when she had a picture of "herself" as her ID picture.
The picture came from this website and unless you're ready to tell me that Miley Cyrus secretly makes sprites for Nintendo fangames, this is by no means Allison's real picture:
www.twistmagazine.com/posts/25…
This photo she posted for her foot fetish friends is a fake as well:
mirakor.deviantart.com/art/Cut…
She took it from a website about getting in touch with the spiritual side of nature:
themindfulnessadvantage.com/20…
I pointed this out to her on her page, however she flagged my comments as spam all by herself somehow and changed it to a picture of a red rose. But her icon still remained a cartoon version of the Miley Cyrus wearing glasses.
She also threw me out of my sprite group because I uploaded this and changed her profile picture once again, this time along with her icon. Now I am both blocked by her and banned from the group, but the truth must still come out.
She now has a new journal full of even worse (and even more hilarious) bs: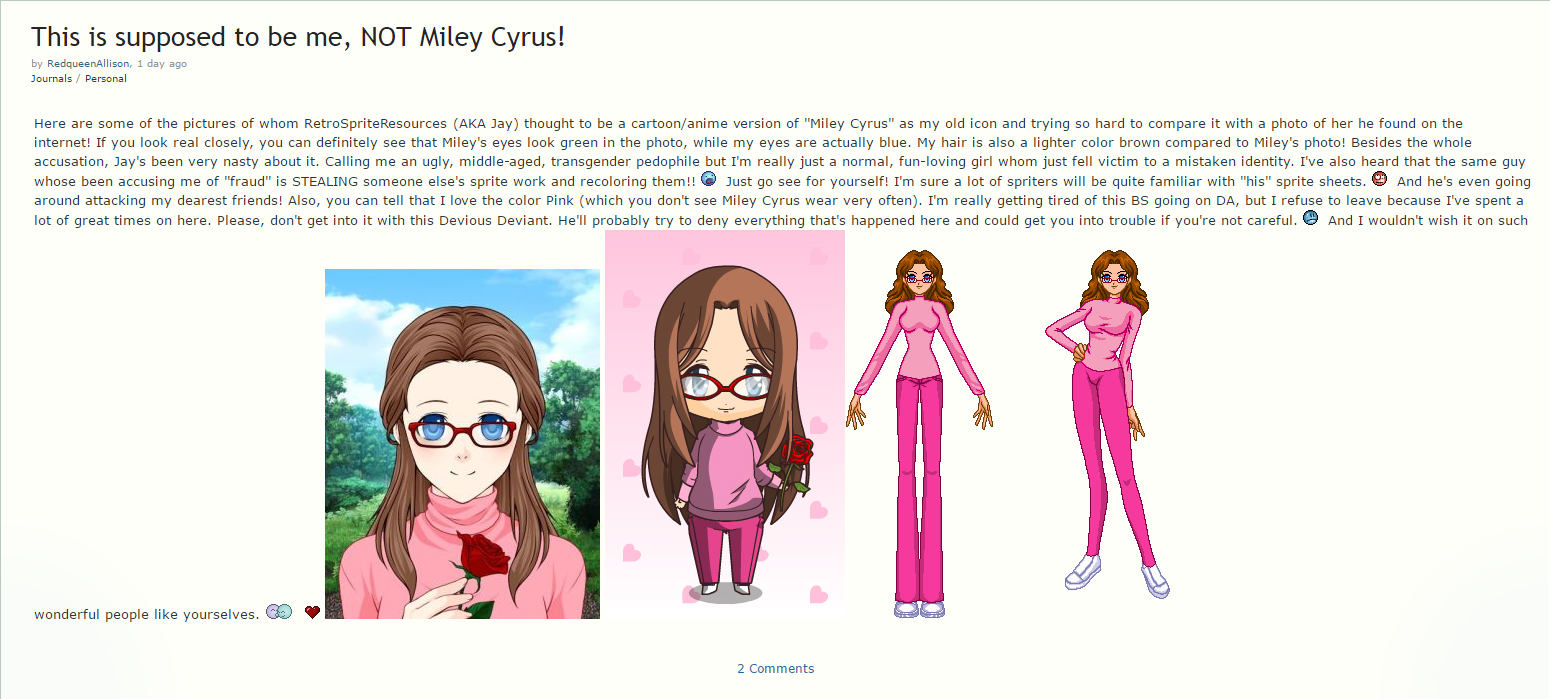 (She deleted the original post, but luckily, I saved it this time as a photograph.
Let's take a look at some of my favorite quotes from this piece:
"Here are some of the pictures of whom RetroSpriteResources (AKA Jay) thought to be a cartoon/anime version of ''Miley Cyrus'' as my old icon and trying so hard to compare it with a photo of her he found on the internet!"
Okay, first of all, I didn't just "find" that photo on the internet. I reverse-image searched that photo which was on your profile (please stop lying) and it took me to the site with the 25 celebrities you didn't know wore glasses. And second of all, I have never even seen any of those cartoon\anime girls before. And lastly, the one cartoon/anime girl I did see isn't included in that line-up.
"Besides the whole accusation, Jay's been very nasty about it. Calling me an ugly, middle-aged, transgender pedophile but I'm really just a normal, fun-loving girl whom just fell victim to a mistaken identity."
I never bluntly called you any of those things, I just said that it was possible that either you thought you were ugly and didn't want to show your real face or you were transgender and wanted the whole world to see you as female even though you still look too much like a male. (The original text can be seen below.) The "middle-aged" and "pedophile" parts are completely untrue. All I ever said about that was roughly "I don't want to jump to a rash conclusion and say she's a 40-year-old pedophile until I have more evidence."
"I've also heard that the same guy whose been accusing me of ''fraud'' is STEALING someone else's sprite work and recoloring them!! Just go see for yourself! I'm sure a lot of spriters will be quite familiar with ''his'' sprite sheets."
I actually burst out laughing when I read this part. If I stole my sprite sheets and recolored them, then please provide a link to the original photo which I recolored. I don't have a single recolored image on my account.
"And he's even going around attacking my dearest friends!"
Who?
"Also, you can tell that I love the color Pink (which you don't see Miley Cyrus wear very often)."
Exactly, because you aren't Miley Cyrus.
Also, please provide a bs explanation as to why you love hardcore porn and strange fetishes in addition to your bs explanation for the photo. That would actually be extremely amusing.
Now, she could just be a transgender female desperate for the world to view her as female or an ugly girl embarrassed about the way she looks, which is what I believed when I saw this, but the cold, hard truth about her true colors doesn't stop with the picture.
She is also known for engaging in strange fetish role plays with various users, I will post an example: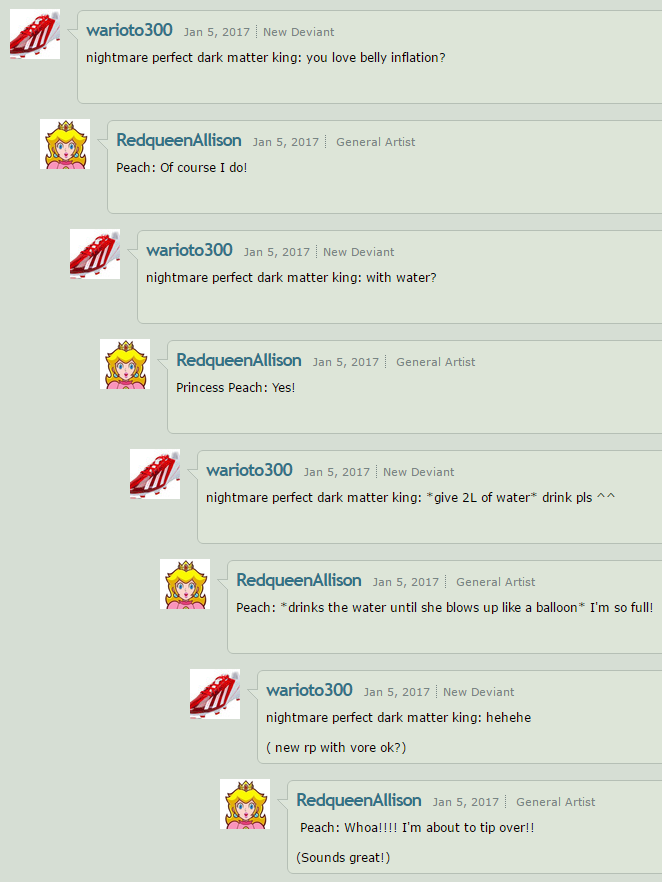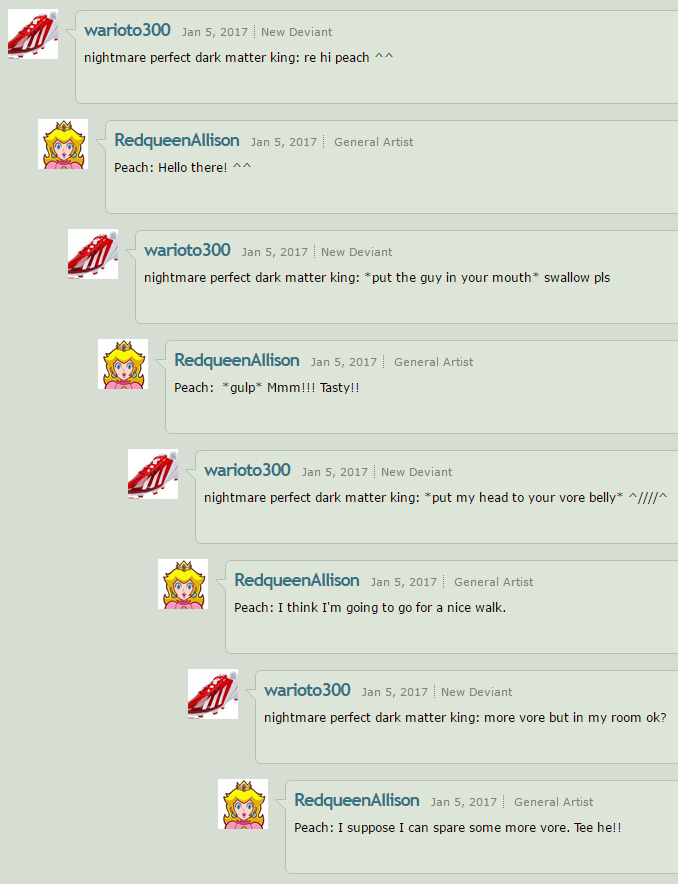 This has all been either flagged as spam or hidden by her since I posted this, but it's bluntly obvious that this was once here because of that long line of "flagged as spam" and "hidden by commenter".
You can check out her page to learn more:
redqueenallison.deviantart.com…
I know this may come across as rude towards this person, but I believe everyone deserves to know the truth, so I'm uploading this anyway.
Have a nice day.